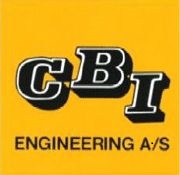 Profile
CBI Engineering A/S was founded back in 1980, and developed into a supplier of equipment, engineering, and services for the Oil Industry.
The product range covers equipment and engineered products for environmental protection and cost optimisation for the customer.

In 1993 CBI developed the first Automatic Fuel-Blending concept for Marine bunkering, based on the well-known and accurate CBI Mechanical Fuel Blender.

Due to the success of Fuel-Blending, it has today become a core product for CBI the developments for Bunker Terminal/Barge and On-Boared-Blending to meet MARPOL Annex Vl continue to meet the increased demand from the industry.

Based on the know-how accumulated through many years co-operation with the oil industry, CBI developed and now offer a Bunker Identification Concept, which can identify and plan new profitable business for bunker customers.

Striving to supply the best environmental protection for customers, who load and unload oil from Rail Tank Cars, CBI introduced a spillage protection system for rails in 1999.

Today the 3. Generation of environmental protection for railway areas has been introduced, and CBI service customers around Europe.

In 2002 CBI merged with SteelTech, an engineering and consultancy company, working towards the steel making industry.

SteelTech was originally established based on the know-how accumulated by the founder and the employees, through many years of co-operation with and employment at steel plants world wide.

The product range covers consultancy services and equipment for cost savings and environmental protection in the scrap based steel making.

The product range and services of the two companies have now been integrated in the core business of CBI, consisting of:

Fuel Blending & Metering for Marine Bunkering.
Bunker Identification Concept - how to improve business and profitability.
Case Studies for business optimisation and development for customers in the Marine Bunker Industry.
Liquid control (Discharge, Loading and Blending)
Environmental Protection of Process- and Storage Tanks.
Systems for environmental protection of Railways.
Lance manipulator and dust recycling system for scrap based steel making.

Products:

Bunker Blending Units
Heavy Duty PD Flowmeters
Hellycopter Refuelling Systems
Lance Manipulators