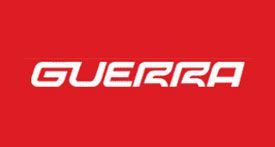 Profile
65 YEARS OF EXPERIENCE: QUALITY GUARANTEE
Industrias Guerra is the leading Spanish company that manufactures forestry and marine cranes. Our company was founded in 1951 in Vila de Cruces (Galicia, Spain) under the name of Talleres Guerra. In 1981 the company became Industrias Guerra, S.A. and thereafter it focused its efforts in the design, manufacture and installation of cranes and trailers that satisfy the functional requirements of each sector under the highest quality standards. The result of 65 years of experience in product design and manufacturing are efficient, safe and quality products.
Industrias Guerra S.A. is a company in continuous expansion that is committed to innovation and continuous improvement of its offered products (trailers and hydraulic cranes for forestry, marine and recycling business), all produced in-house.
About 65% of the hydraulic cranes we produce are exported to several countries in Europe, America, Asia and Africa. We have a wide network of official dealers, and we have companies included in our corporate group in Portugal and Argentina. Among other countries, we sell in Portugal, France, Germany, Ireland, UK, Italy, Netherlands, Norway, USA, Canada, Mexico, Argentina, Chile, Peru, Ecuador, Morocco, Turkey, Japan, South Korea and Singapore.
Products:
Foldable Knuckle Boom Cranes
Telescopic Boom Cranes
Short Post Knuckle Boom Cranes
Short Post Telescopic Boom Cranes
Hydraulic Power Packs